For your custom processing program --GF processing program EMO Show Preview
Date:2016-8-19
From:Network Integration
In October 2015 5-10 May EMO exhibition in Milan, Italy, held, you will see that it stands customer-centric thrust of the GF processing program: increased productivity, accuracy, profitability and production flexibility for manufacturers .

Booth C06 in Hall 9, EMO visitors will feel the central theme of GF - for your custom processing program. This includes the machine was first exhibited, customer service, processing program by the GF brought the most valuable on-site processing demonstration, which covers a broad GF processing program production technology, expertise, for many industrial customers to enhance productivity of services .

Our techniques include milling, EDM, wing processing solutions, laser texturing processing, automation, fixtures and spindle, together with the customer service, which makes GF processing programs become offer mold and precision parts of the world leading provider of solutions.

On the EMO exhibition, we will debut include Mikron MILL P 800U milling centers, CUT E 350 wire cutting, laser texturing process provides solutions for products LASER 400, in addition to milling, EDM and laser technology provides communication services customer service latest rConnect center plat.

In addition, the booth will highlight GF processing program and deep processing expertise in key areas such as aerospace manufacturing professional solutions in the tool and die industry, high-value parts manufacturing industries and high value-added customer service and other areas. Not only that, we work with the world's increasing material manufacturing leader EOS, the first program Kralling German strategic partnership will also be on display.

Whether customers focus on reducing costs, opening up new areas of business or to seek inspiration from the peer, GF processing program EMO2015 booth will allow visitors to develop ideas, inspiration. Visitors also have access to the most wiy used processing solutions and processing applications and production process expertise.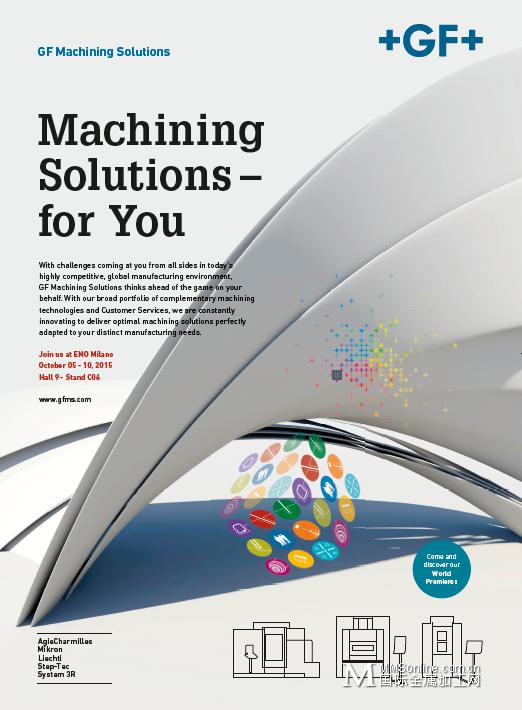 (More about GF message processing program in EMO2015 exhibition, please visit our website www.gfms.com/EMO2015. Our latest news will be d.)
<-BACK